Worldwide expertise in all aspects of hot stamping
For more than 70 years, our customers have relied on our overall concept of mechanical engineering, embossing dies, finishing foils and service and can still rely on BAIER's innovative spirit to this day. Result-oriented, unconventional and economical, we realise your design wishes in the plastics sector.
Thanks to our many years of experience and our own development department, we are able to design production systems specially to your specifications. From small manual machines to complex production lines with high performance, the possibilities are almost unlimited. We rely on the professional competence of renowned component manufacturers to offer you the highest possible quality.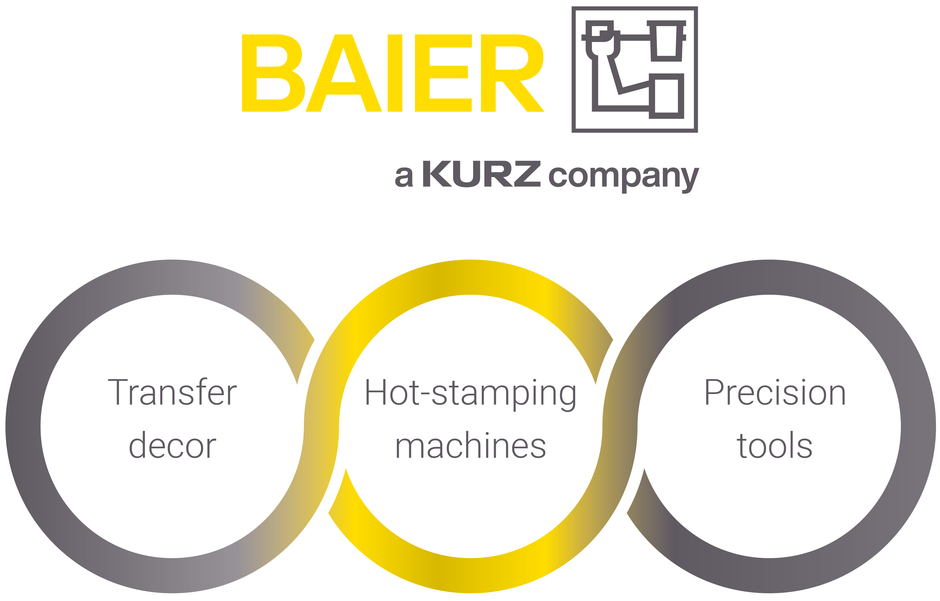 As a subsidiary of the KURZ-Group - an international leader in the field of hot stamping foils - to which hinderer + mühlich also belongs as a manufacturer of stamping tools, we are part of a worldwide unique network of three leading companies in the hot stamping sector.
The unique combination of hot stamping and digital printing machine creates limitless design options and efficiency in the production of product variants.
Making every product unique! Individualise mass products economically.
You can find further information here >>
Dear Ladies and Gentlemen,
we want to inform you that we will implement a new system on 1st of February 2023. From this time our old ERP system will be switched to SAP whereby we adapt us to the system of KURZ and the other KURZ companies.
This is a milestone in the history of our company but also will be a big task especially at the beginning due to the fact that it will not run smoothly. But for us it is a big chance to optimize the workflow and business processes and make them more transparent to be prepared for the future. This base enables us also in the future to meet the customers' requirements and general conditions.
We apologize in advance for the inconvenience and will be further on reachable for you via mail or phone it any case of problem occurs.
Baier supports you in the design, feasibility study, stamping trials and in the implementation.
Our team of almost 20 employees will gladly support you in project acquisition and implementation